Okay. So I've been remiss with my posting. For some reason the last couple of weeks have been crazy...but for no good reason. This week is the craziest of all, but I told myself I wouldn't let me get too far behind on things. And that's sort of working. I mean, I'm here typing, aren't I? Anyway, after some recipe missteps two weeks ago, it was nice to have a completely successful recipe week last week. Out of four new recipes, none were losers! Hurray!
The Healthy Chicken Paprikash was quite good...though I will make a few adjustments next time. The Blackened Chicken with Avocado Cream Sauce and Cilantro-Lime Quinoa was quite awesome...again, I will make minor tweaks. We really enjoyed the Lazy Sunday Casserole...though "casserole" is not the right word for it...it is oven-roasted veggies and sausage. Good, nevertheless. And the Crockpot 3 Bean Turkey Chili recipe made an incredibly easy pot of chili that is easily customizable to individual tastes. Plus, chili is a good excuse to make cornbread, which is yum.
So, it's time for recipe sharing...
Healthy Chicken Paprikash
2 large yellow onions, sliced (I used 1)
1 1/4 lbs boneless, skinless chicken breasts (I used 4 breasts)
salt and pepper
1 tbsp butter
1 tbsp sweet Hungarian paprika (I used generic paprika)
1/8 to 1/4 tsp cayenne pepper, depending on heat preference (I used 1/8)
1/2 c. chicken broth
1/3 c. plain nonfat Greek yogurt
2 tbsp sour cream (recipe says "not lowfat"...I used lowfat)
16 oz bag frozen bell pepper strips (red, yellow and green), thawed (can also use fresh)
Season the chicken with salt and pepper. Slice onions lengthwise, top to root. Heat large, deep skillet and melt butter over medium heat. When hot, add the chicken and cook 4-5 mins on each side until browned and cooked through. Remove chicken. Add sliced onions and cook, stirring occasionally, for about 8 mins, until they are lightly browned. Add the paprika, cayenne and chicken broth and scrape the bottom of the pan to dissolve brown bits. Add chicken back to skillet and stir in bell peppers. (I also added some frozen peas to the mixture at this time for more color and more veggies.) When mixture starts to boil, reduce heat to low and cover. Simmer about 20 mins. Turn off heat and let cool a bit before stirring in yogurt and sour cream. Then serve over noodles, rice or potatoes. (I served over egg noodles, which was good.) Amy's Notes: Next time I will use fewer onions and cut them smaller. I will use fresh peppers and more of them and possibly add in some shredded carrots. And I may thicken the sauce a bit. (originally from askgeorgie.com)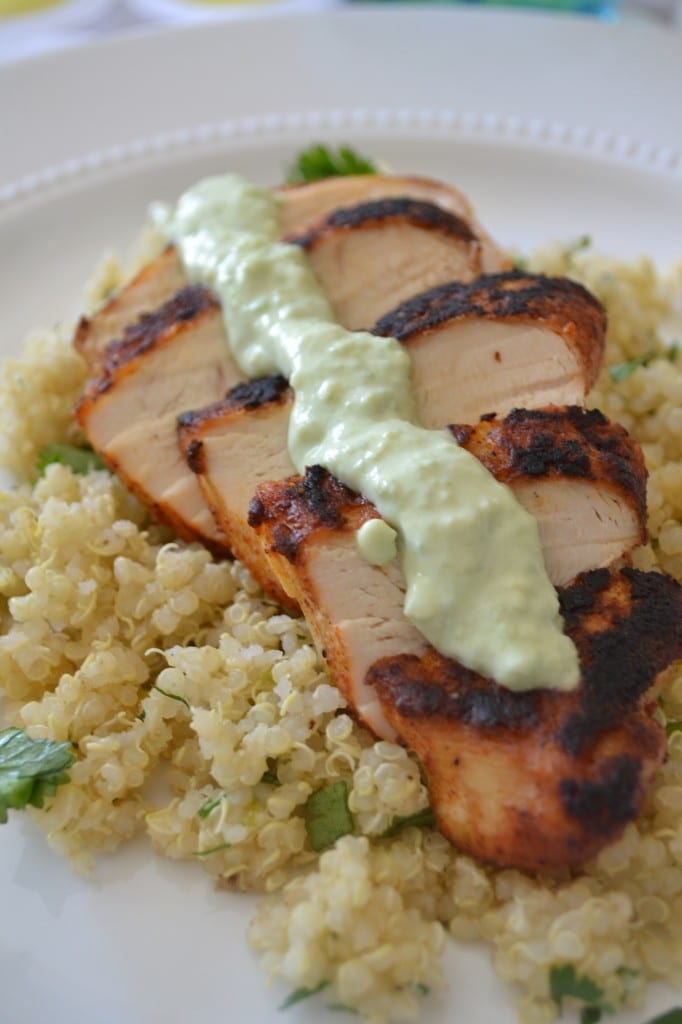 Blackened Chicken with Avocado Cream Sauce and Cilantro-Lime Quinoa
4 boneless, skinless chicken breasts
1 tsp paprika
1/2 tsp salt
1/2 tsp pepper
1/4 tsp cayenne pepper
1/2 tsp onion powder
1/2 tsp cumin
1 tsp olive oil
2 c. chicken stock
1 c. quinoa
juice and zest of two limes
salt and pepper
2 tbsp cilantro, chopped
1 avocado
2 tbsp plain Greek yogurt
Combine 6 dry ingredients in a small bowl. Mix together and then season both sides of chicken breasts. Add the oil to a large pan and heat over medium-high. Add the chicken breasts. Cook for about 7 mins. each side, with the lid on, until cooked through. Add the chicken stock and quinoa to a medium sauce pan. Bring to a simmer over medium heat. Reduce heat to low and simmer for 10-15 mins with the lid on, until all stock has been absorbed. After chicken is done cooking, remove from pan and let rest before slicing. Place the flesh from the avocado and the Greek yogurt in a food processor and puree until smooth (Or just mash it up and mix it really good in a bowl, like I did.). Add the warm quinoa to large bowl and toss in the lime juice and zest, chopped cilantro, and salt and pepper to taste. Mix to combine. Slice chicken and serve on top of quinoa. Drizzle with avocado sauce. Amy's Notes: If you take a bite with quinoa and chicken and sauce it is a lovely flavor combination with perfect spice. However, if you eat the chicken alone, it has a little kick (which is only bad if you have eaters who don't like kick); and the quinoa alone was too lime-y...granted my limes were on the larger side. Next time I will probably use only one lime...two, only if they're really small. (originally from sarcastic cooking.com)
Sunday Oven-Roasted Veggies and Sausage
4 sausages (recipe calls for beef or pork; I used 5 apple-chardonnay chicken sausages and it was fabulous)
1 lb potatoes (I used fingerling so I didn't have to peel and cut them)
1/2 lb carrots (you could use baby carrots if you don't want to peel and cut)
1/2 bell pepper (I used a whole red one)
1 large onion (I used a sweet onion)
1 fennel bulb (my family's not a fan so I replaced this with cauliflower, which turned out awesome; you could do any good roasting veggie...squash or sweet potatoes would be great)
2 garlic cloves, chopped
2 tbsp oil
freshly cracked pepper
1 1/2 tsp Italian herbs
1/2 c. chicken broth
4 tbsp balsamic vinegar
Preheat your oven to 450F. Peel and quarter your potatoes...or just wash them if you're using little reds or fingerlings or the like. Peel and cut your onion into wedges. Clean and chunk whatever other veggies you're using...you just want everything to be somewhat similar in size. Place all veggies into a big roasting pan. In a big bowl combine the oil, herbs, garlic and chicken broth. Pour this mixture over the veggies and toss them around. Season with salt and pepper (kosher salt and freshly cracked pepper if you have it). Cover the pan with aluminum foil and bake at 450F for 45 mins. Meanwhile, brown the sausage in a pan then slice each into 2-3 large pieces. After 45 mins the veggies should be fork tender. Add the sausage to the pan and pour the balsamic vinegar all over. Put back in the oven, uncovered for 25-30 mins. After about 15 mins. flip the sausages and ladle some of the juices all over the veggies and sausage. Put back in oven for remaining time until everything is nice and brown. Then take out and serve! I recommend having some good bread to go with it and sop up some of the juices. (originally from kaotic kitchen blog)
Crockpot 3-Bean Turkey Chili
1 lb ground turkey
1 small onion chopped
1 28 oz can diced tomatoes, undrained
1 15 oz can chickpeas, rinsed and drained
1 15 oz can kidney beans, rinsed and drained
1 15 oz can black beans, rinsed and drained
1 8 oz can tomato sauce
1 4 oz can diced mild green chilies
2 tbsp chili powder (you can also add cayenne if you want some kick)
shredded cheese and sour cream to top
Cook turkey and onion in pan over medium to medium-high heat until no longer pink. In a crockpot add the turkey and all remaining ingredients and mix well. Cook on high 6-8 hrs. Dish out, top with cheese and sour cream and serve. Amy's Notes: This is a super-easy recipe and makes a great chili foundation that you can then customize to your own personal taste--add heat if you like, add other ingredients that you like, you could even take it sweet...really, whatever sounds good to you. And I like to serve mine with cornbread! (originally from my friend, Dana.)
So that's it...four new recipes for this week. That's a lot, but they were all good enough to share...and all so different! I hope you find something here that appeals to you and that everyone in your house will love.
Happy cooking!